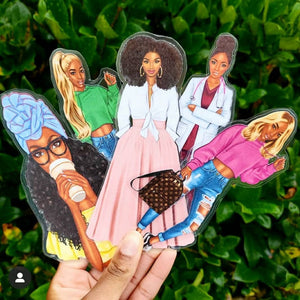 Book Mark Review
Excellent Book Marks that have been repurposed to make Greeting Cards. "Creative Cards By Vicki" group page on Facebook has sample pictures of how beautiful the Bookmarks look as Greeting Cards. Excellent Products for sure.!! Thank you
Beautifully done
I love my new bookmarks. They are gorgeous and I have already gotten compliments on them.
African American Bookmark Set
These are some beautifully crafted bookmarks. I will be ordering the other sets very soon. The shipping took no time at all.
Black Women Are Dope So They Deserve to Be Bookmarks
The doctor was a little smaller than I would have liked compared to the others, but the set included a doctor, so there's that. Super cute!
---